Tagged by
Here we go again.

1. Post these rules.
2. Post 8 facts about your character.
3. Tag 8 other characters.
4. Post their names along with their creators' avatars.
(You can tag back if you'd like, just with a different character)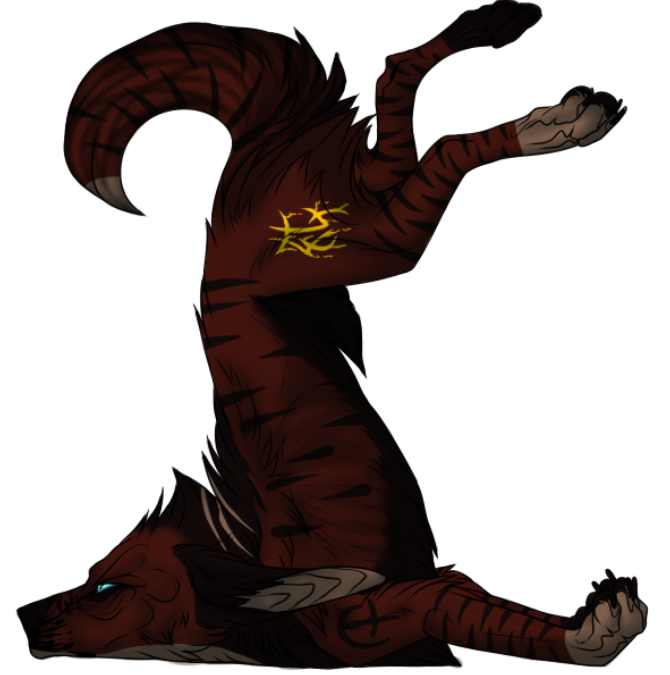 Lineart:
NVSTY
Design:
RustyxBuckets
Character:
IndominusRexx
1) Vruiyk was born in the deserts of Egypt and is fluent in Arabic.
2)
He has heterochromia iridum. Meaning that his eyes are two completely different colours. His left one is icy blue while his right one is golden.
3)
As the oldest blood descendant of his parents, Vruiyk was meant to take control of the tribe he was born into when his parents pass. However due to his 'defect' they skipped him and now his twin Vasikel is next in line.
4)
Vruiyk was born with a redish pelt. This is seen as a defect and bad omen. It is believed to resemble his blood soaken pelt and that he has killed many innocent beings in a past life. This pelt colour is also the reason why he constantly suffered bad treatment from everyone but a selective few, amongst them were his siblings.
5)
He has a gold tooth. It was a punishment for bad behaviour when he was three months of age. The tooth was ripped out, bathed in melted gold and then put back in. His birthmark on his left side has a similar story, for it was just a dull yellow before it was turned bright gold as yet another punishment.
6)
Despite all he has gone through in his past at a very young age, Vruiyk is one of the most open wolves you will ever meet. He does not shy away from talking about his past and is actually very talkactive.
7)
Vruiyk found a young critter abandoned in a bush when he was one year old. A pup that was left there for death. Without hesitation he took him in and adopted him. He named him Saifullah which has a very strong meaning for both of them.
8)
He once inhaled a butterfly by accident and then proceeded to step on it. By accident.
I tag...

with Vulkasin.

with Sark.



with Ferral.



with Rodolfo.


with Taygen.


with Fletcher.


with Rhett.


with Fergus.